Missing (Novel) Volume 1: Spirited Away
by Gakuto Coda


As a child, Kyoichi Utsume was spirited away, but somehow he returned to our world. Now in high school, he's a loner famous for his all-black outfits, his arrogant attitude, and his extensive knowledge of the occult. Then one day, he meets her, and things between the two worlds are never the same.
Missing (Novel) Volume 2: Letter of Misfortune by Gakuto Coda
Kyoichi Utsume would be intimidating even if it weren't for his dark and mysterious past--but even Kyoichi is disquieted by the curse that has befallen his friend Aki Kidono. Magic rituals, family secrets, and internal conflict mix together in a wicked brew--and it falls to Aki's friend to free her from her curse and the demons that surround her.
Ophelia by Lisa M. Klein

Ophelia is young, vivacious, and falling in love with a prince who cannot return her affections without arousing suspicion. And so they meet in secret—embracing in stairwells and castle turrets, reaching passionately for each other under the cover of darkness. His name is Hamlet; her name is Ophelia. And if you think you know this story, think again. Because when bloody deeds turn the court of Elsinore into a place of treachery and madness, Ophelia alone will find the means to escape, with nothing more than the clothes on her back…and one very dangerous secret.
A spellbinding page-turner, this unforgettable novel will hold readers in its grip until the final, heart-rending scene.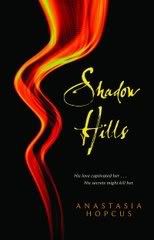 Shadow Hills by Anastasia Hopcus
Release Date: 2010

Since her sister's mysterious death, Persephone "Phe" Archer has been plagued by a series of disturbing dreams. Determined to find out what happened to her sister, Phe enrolls at Devenish Prep in Shadow Hills, Massachusetts—the subject of her sister's final diary entry.
After stepping on campus, Phe immediately realizes that there's something different about this place—an unexplained epidemic that decimated the town in the 1700s, an ancient and creepy cemetery, and gorgeous boy Zach—and somehow she's connected to it all.
But the more questions she asks and the deeper she digs, the more entangled Phe becomes in the haunting past of Shadow Hills. Finding what links her to this town…might cost her her life.