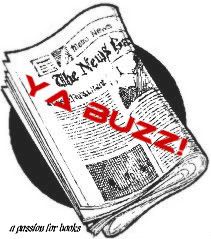 "YA Buzz" is a collection of news relating to the YA genre. This can include, but not limited to: author and book news, new covers, and contects around the blogosphere.
Have something you would like shared? Email me at apassionforbooks@hotmail.com.
__________________________________________
Have a young adult novel—or a YA novel idea—tucked away for a rainy day? Are you putting off pitching your idea simply because you're not sure how to pitch an agent? No problem! All you have to do is submit the first 250 words of your novel and you can win both exposure to editors, and a one-on-one chat with one of New York's TOP literary agents Regina Brooks.

Regina Brooks is the founder of Serendipity Literary Agency and the author of Writing Great Books for Young Adults. Brooks has been instrumental at establishing and building the careers of many YA writers, including three-time National Book Award Honoree and Michael Printz Honoree Marilyn Nelson, as well as Sundee Frazier—a Coretta Scott King Award winner, an Oprah Book Pick and an Al Roker book club selection. As an agent, she is known for her ability to turn raw talent into successful authors.

ADDITIONALLY: The top 20 submissions will all be read by a panel of five judges comprised of top YA editors at Random House, HarperCollins, Harlequin, Sourcebooks and Penguin. All 20 will receive free autographed copies of Writing Great Books for Young Adults by Regina Brooks. Of the 20, they will pick the top five submissions and provide each author with commentary. ONE Grand Prize Winner will win a free 10-week writing course courtesy of the Gotham Writer's Workshop.
Please submit all entries via the contest website at http://www.writingclasses.com/ContestPages/YAPitch.php.

One entry per person; anyone age 13+ can apply.

Open to the U.S. & Canada (void where prohibited).

Entries for the YA Novel Discovery Contest will be accepted from 12:01am (ET) November 1 until 11:59pm (ET)

In honor of National Novel Writing Month (NaNoWriMo.org)—an international event where aspiring novelists are encouraged to write an entire novel in 30 days—this contest is meant to encourage the aspiring YA author to get started on that novel by offering an incentive for completing the first 250 words.

So apply now!

JUDGING:

YA literary agent Regina Brooks, along with editors at Sourcebooks, will read all of the entries and determine the top 20 submissions. These submissions will then be read by Dan Ehrenhaft, head Acquisitions Editor at Soucebooks Fire; Alisha Niehaus, Editor at Dial Books for Young Readers (Penguin); David Linker, Executive Editor at HarperCollins Children's Books; Michele Burke, Editor at Knopf Books for Young Readers (Random House); and Evette Porter, Editor at Harlequin. These judges will whittle the top 20 down to four winners and a grand prize winner—all five will be provided commentary on their submissions.
________________________________________
My Soul to Save by Rachel Vincent has a new cover. I mentioned the redesign on my last WoW post. Harlequin Teen is interested in hearing reader's opinion about the cover change. Cast you vote on Rachel's site (poll located in sidebar) or at the Harlequin's Paranormal Romance Blog.
Rachel Vincent also announced that she accepted an offer for four more books – 4th and 5th of the Soul Screamers series (yay!) to Harlequin TEEN and 2 adult books for MIRA.
Mari Mancusi's vampire series, Blood Coven, has a new website. Check it out!
Tera Lynn Childs posted a countdown for Forgive My Fins. It's super cute!
The Wicked series by Nancy Holder and Debbie Viguie was picked up by Dreamworks.
______________________________

A Most Improper Magick by Stephanie Burgis – First Chapter

Inside Out by Maria V. Snyder – First Chapter
Tangled by Carolyn Mackler – First Chapter

Losing Faith by Denise Jaden – First Chapter
The Mark by Jen Nadol – excerpt
Sing Me to Sleep by Angela Morrison – First Chapter
All Unquiet Things by Anna Jarzab – First Chapter
Stupid Cupid by Rhonda Stapleton – First Chapter
____________________________________
New Covers: