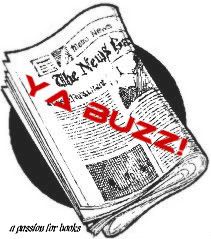 "YA Buzz" is a collection of news relating to the YA genre. This can include, but not limited to: author and book news, new covers, and contects around the blogosphere.
Have something you would like shared? Email me at apassionforbooks@hotmail.com.
______________________________________________


Like to talk about books? Well, you're in luck. My awesome friend, Kate (
The Neverending Shelf
) has started a new forum,
Neverending YA Talk
,where book lovers can come together and talk about book and other bookish things. This was a GREAT idea, and you all should check it out!
_____________________________
Feel like giving and receiving something this holiday. Kate (
The Neverending Shelf
) is hosting
Secret Santa
this year. Its open internationally and to all book lovers! You can find out more information at her site.
Sign-ups end November 15th
.
Another great swap for Book Bloggers is the
Holiday Swap
. Check out the website for more information.
Sign-up deadline is November 12th
.
__________________________
Many Hubbard
(
Prada and Prejudice
) has posted a teaser for her upcoming book Shattered (written under the name Amanda Grace), due to release in 2011 by Flux. This book sounds interesting and can't wait to read it. Check out the teaser
here
.
Rachel Vincent
posted a
teaser of My Soul to Save
on her blog. I really enjoyed the first book in her Soul Screamers series, and can't wait to read the rest of them.
I'm sure many of you have heard, but for those of you who haven't - Beautiful Creatures by Kami Garcia and Margaret Stohl is now in stock at
Amazon
and
Barnes and Noble
.
Megan Crew
(
Give Up the Ghost
), participated in an interview with
Tor.com
about the possibility of a sequel!
Maggie Stiefvater
posted her first
teaser of Linger
on her blog! Go read it!
Diana Peterfreund
(
Rampant
) posted a little about a
sequel to Rampant
. Not sure how many people knew this already, but it's news to me so I thought I would share anyways.
__________________________

New Covers:


Linger
by Maggie Stiefvater