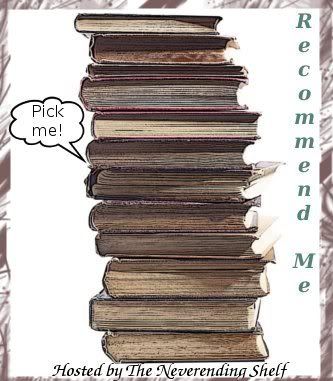 Recommend Me is a weekly event, hosted by Kate from
The Neverending Shelf
, in which participants will pick one of their all time favorite reads to share. This could be a book that your read yesterday or years ago.
_________________________
Crank by Ellen Hopkins

Kristina Georgia Snow is the perfect daughter: gifted high school junior, quiet, never any trouble. But on a trip to visit her absentee father, Kristina disappears and Bree takes her place. Bree is the exact opposite of Kristina -- she's fearless.

Through a boy, Bree meets the monster: crank. And what begins as a wild, ecstatic ride turns into a struggle through hell for her mind, her soul -- her life.
This was definitely a very raw, and terrifyingly real story. It shows what someone's life will become like when addicted to drugs.
Crank
is just an amazing and so full of truth read that I recommend this to both teenagers and adults.
You can read my review
here
.
Other books within the series:
Glass
by Ellen Hopkins
Fallout
by Ellen Hopkins (coming Sept. 14, 2010)