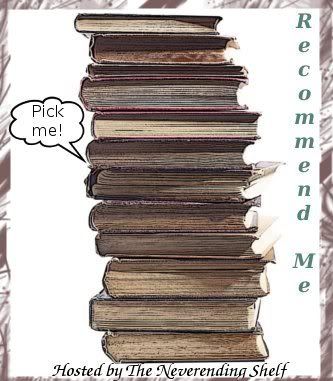 Recommend Me is a meme hosted by The Neverending Shelf. Each Friday, participants will pick one of their all time favorite reads to share. This could be a book that your read yesterday or years ago.
_________________________________
Beautiful Creatures by Kami Garcia and Margaret Stohl

There were no surprises in Gatlin County.
We were pretty much the epicenter of the middle of nowhere. At least, that's what I thought.
Turns out, I couldn't have been more wrong.
There was a curse.
There was a girl.
And in the end, there was a grave.

Lena Duchannes is unlike anyone the small Southern town of Gatlin has ever seen, and she's struggling to conceal her power and a curse that has haunted her family for generations. But even within the overgrown gardens, murky swamps and crumbling graveyards of the forgotten South, a secret cannot stay hidden forever.

Ethan Wate, who has been counting the months until he can escape from Gatlin, is haunted by dreams of a beautiful girl he has never met. When Lena moves into the town's oldest and most infamous plantation, Ethan is inexplicably drawn to her and determined to uncover the connection between them.

In a town with no surprises, one secret could change everything.

If you read my review, then you ought to know how much I loved this book! Beautiful Creatures is definitely one phenomenal, jaw-dropping story not to be missed! There's mystery, action, romance, and so much more. Its safe to say there is never a dull moment, so many surprises keeping on you toes from beginning to end. This was the best book I read last year and is one of my ultimate favorites!
I recommend this book to Everyone!!
You can also read my review of Beautiful Creatures here.