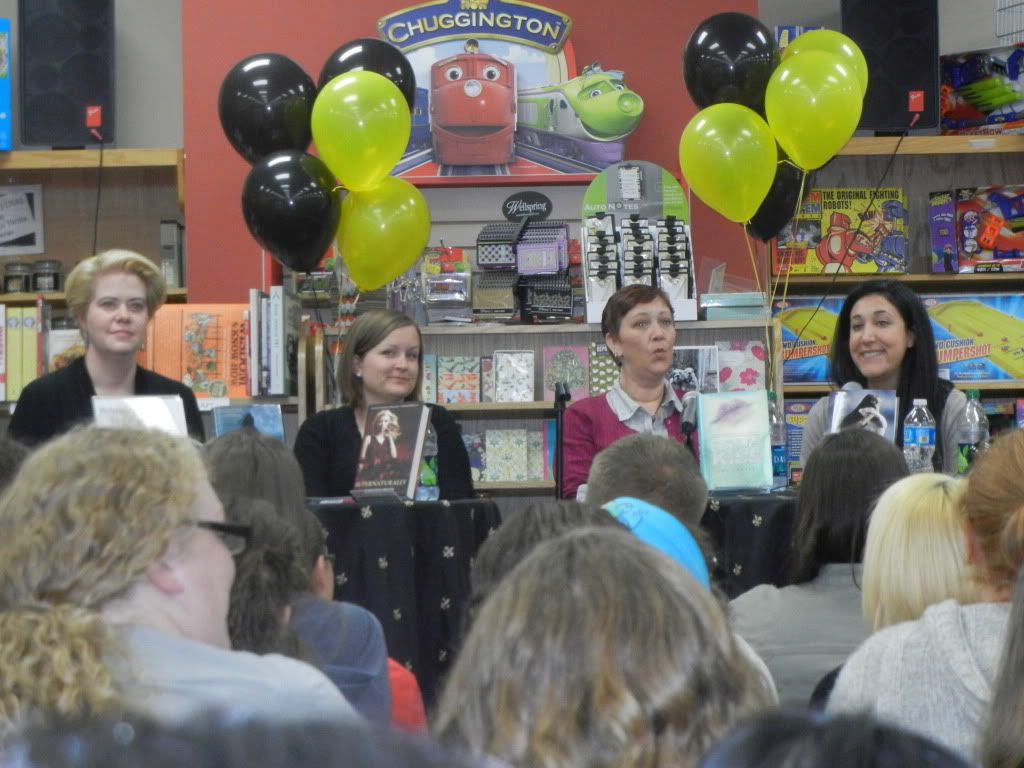 Last Sunday I traveled the three and a half hour drive to Naperville, IL to attend the Dark Days of Fall tour. I haven't been to too many author signings and to attend an event with not one, but four authors was a big deal for me!
I really enjoyed meeting Claudia Gray (
Evernight
,
Stargazer
,
Hourglass
,
Afterlife
,
Fateful
), Kiersten White (
Paranormalcy
&
Supernaturally
), Amy Garvey (
Cold Kiss
), and Jocelyn Davies (
A Beautiful Dark
). They are all wonderful and hilarious ladies. I loved having the opportunity to chat with them about random things and get my books signed.
Claudia Gray, me, and Kiersten White
Anderson's Bookshop
did a fantastic job hosting this signing. I had put some books for the signing on hold to pick up at the store and when I arrived they didn't have my books. I was a little disappointed, but luckily they had some extra copies on the shelf I was able to grab. Other than not having the books I put on hold a few days before the signing, I had a great experience at Anderson's Bookshop and will definitely attend more signings they host.
A few girls had asked each author a variety of questions pertaining to writing, publishing, and personal experiences. I love this aspect in a signing because it is always fun to learn some new interesting things about an author.
Amy Garvey, me, and Jocelyn Davies
my signed books!!
I had an awesome time! I thought I would share some footage of the authors reading from their newly released novels. Enjoy!