*In My Mailbox is hosted by The Story Siren*
For Review:
The Summer of Moonlight Secrets
by Danette Haworth
Release Date:
May 25, 2010
A summer tale full of magical wonder and starring an unforgettable antebellum hotel At The Meriwether, Florida's famous antebellum hotel off of Hope Springs, nothing is quite as it seems.

Secret staircases give way to servants' quarters and Prohibition-era speakeasies make for the perfect hide-and-seek spot.

Allie Jo Jackson knows every nook and cranny of The Meriwether—she's lived there her whole life—and nothing surprises her, until the first time she spots the enigmatic and beautiful Tara emerging from the springs.

Tara's shimmery skin, long flowing hair, and strange penchant for late moonlight swims disguise a mysterious secret—and once Allie Jo and her friend Chase discover Tara's secret, nothing will ever be the same.

Claire de Lune
by Christine Johnson
Release Date:
May 18, 2010
Hanover Falls hasn't had a werewolf problem in over one hundred years. Seattle, Copenhagen, Osaka-they've had plenty of attacks. But when humans begin dying in Claire Benoit's town, the panic spreads faster than a rumor at a pep rally. At Claire's sixteenth birthday party, the gruesome killings are all anyone can talk about. But the big news in Claire's mind is the fact that Matthew Engle–high-school soccer god and son of a world-renowned lycanthropy expert–notices her. And flirts with her. A lot.

That night, Claire learns that she is the latest in a long line of Benoit werewolves, and that contrary to popular belief, all werewolves are female. Killing humans is forbidden by the code of the pack, but a rogue werewolf has been breaking that law, threatening the existence of Claire's new pack. As the pack struggles to find and fight the rogue werewolf and Claire struggles with her lupine identity, her heart and her loyalties are torn in two. Claire must keep her new life a secret from even her best friend–and especially from Matthew, whose father is leading the werewolf hunt…and with whom Claire is impossibly and undeniably falling head-over-paws in love.

Bought: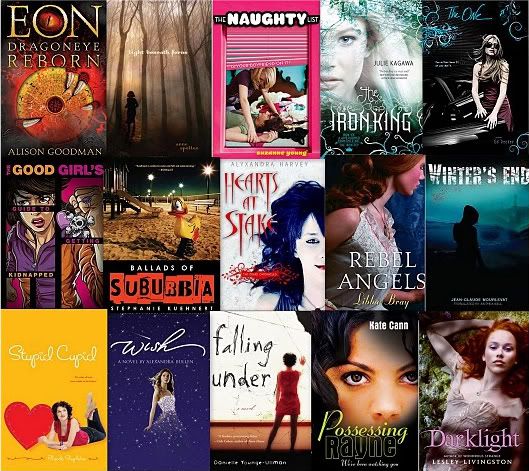 Eon: Dragoneye Reborn by Alison Goodman
Light Beneath Ferns by Anne Spollen
The Naughty List by Suzanne Collins
The Iron King by Julie Kagawa
The One by Ed Decter
The Good Girl's Guide to Getting Kidnapped by Yxta Maya Murray
Ballads of Suburbia by Stephaine Kuehnert
Hearts at Stake by Alyxandra Harvey
Rebal Angels by Libba Bray (Gemma Doyle #2)
Winter's End by Jean-Claude Mourlevat
Stupid Cupid by Rhonda Stapleton
Wish by Alexandra Bullen
Falling Under by Danielle Younge-Ullman
Possessing Rayne by Kate Cann
Darklight by Lesley Livingston (Wondrous Strange #2)