"YA Buzz" is a collection of news relating to the YA genre. This can include, but not limited to: author and book news, new covers, and contects around the blogosphere.
Have something you would like shared? Email me at apassionforbooks@hotmail.com

_________________________


Joy Preble
announced on her blog
there will be a sequel to
Dreaming Anastasia
! The sequel's title is
Haunted
and is set for publication in 2011.
"Joy Preble's HAUNTED, the sequel to DREAMING ANASTASIA, in which a girl is being haunted by a mysterious and malevolent mermaid"
YA Rebels vlogger,
Leah Clifford's
A Touch Mortal
is the first in a planned trilogy set for publication in Winter 2011.
"A seventeen-year old doesn't remember the details of her final hours, but now, she's a Sider, a lost soul trapped between the living and the dead; endowed with a special power no Sider ever had, she is pulled into a feud between Fallen and Bound Angels which will reveal the truth of her death and alter heaven and hell and everything in-between"

Sarah Porter's Lost Voices is set for publication in Spring 2011 in a three-book deal.
"A troubled 14-year-old's delight at becoming a mermaid and finding a home with these beautiful, mysterious creatures is tempered when she discovers their darker impulses."
Bloomsbury has
purchased the sequel
to
The Mark
by Jen Nadol. The current, but not official, title is
Vision
and is set for publication in 2011.

__________________________

New Covers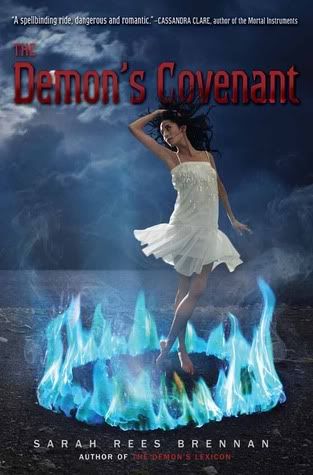 The Demon's Covenant
by Sarah Rees Brennan (The Demon's Lexicon #2)
A Small Free Kiss in the Dark
by Glenda Millard