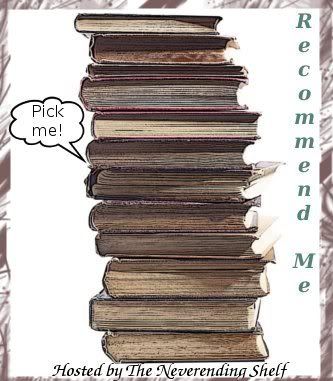 "Recommend Me" is a weekly event, hosted by Kate from
The Neverending Shelf
, in which participants will pick one of their all time favorite reads to share. This could be a book that your read yesterday or years ago.
_______________________________________
The Forest of Hands and Teeth by Carrie Ryan

In Mary's world, there are simple truths.

The Sisterhood always knows best.

The Guardians will protect and serve.

The Unconsecrated will never relent.

And you must always mind the fence that surrounds the village. The fence that protects the village from the Forest of Hands and Teeth.

But slowly, Mary's truths are failing her. She's learning things she never wanted to know about the Sisterhood and its secrets, and the Guardians and their power. And, when the fence is breached and her world is thrown into chaos, about the Unconsecrated and their relentlessness.

Now she must choose between her village and her future, between the one she loves and the one who loves her. And she must face the truth about the Forest of Hands and Teeth. Could there be life outside a world surrounded by so much death?
This was one fantastic book! To this day, I still can't think of the perfect word to describe the writing. The words just flowed off the pages so smoothly, making
The Forest of Hands and Teeth
one of the most beautiful and best-written novels I've read. With a mix of action and suspense, it was hard to put the book down just for a moment! I'm eagerly awaiting the companion novel,
The Dead-Tossed Waves
, and can't wait to see how everything unfolds, especially since the next book will be told through the eyes of Mary's daughter.
You can read my review
here
.