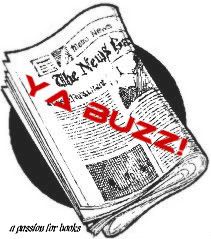 "YA Buzz" is a collection of a wide variety of news about anything related to the YA genre. This can include, but no limited to: any news about authors and/or books, new covers, contests around the blogosphere, and so much more.
Have something you want shared? Email me at apassionforbooks@hotmail.com


___________________________

I was going through my reader and there were some great interviews and contests going on. So I thought I would just post them. Random? Yes, I know but that's okay.
-Interviews-
Rachel Vincent talks about her new YA series, Soul Screamers @
Fantastic Book Review
Heather Brewer, author of the Vladimir Tod series (
Eighth Grade Bites
,
Ninth Grade Slays
, and
Tenth Grade Bleeds
) @
The Compulsive Reader
Stephanie Kuehnart creates her own ballad @
Just Blinded Book Reviews
Senfaye, from
A Maze of Books
, guest blogs @
Lee A. Verday's Book/Writing Blog
and talks about her Comic Con experience.
-Contests-
Contest for an ARC of
Shiver
is being extended @
Sarah's Random Musings
Rachel Vincent
has a picture contest going on, which ends August 5th.
Take a picture of My Soul to Take on the shelf at your local store and email it to her. You'll then be entered for a chance to win a YA gift set including The Forest of Hands and Teeth by Carrie Ryan, Fragile Eternity by Melissa Marr, Strange Angels by Lili St. Crow, and The Awakening by Kelley Armstrong.