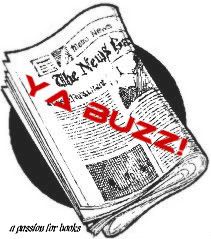 "YA Buzz" is a collection of a wide variety of news relating to the YA genre. This can include, but not limited to: any news about authors and/or books, new covers, contests around the blogosphere, and so much more.
Have something you would like shared? Email me at apassionforbooks@hotmail.com

______________________________

This is very exciting news to me because I LOVE The Mortal Instruments series by Cassandra Clare!
There is going to be a 4th book in the series -
City of Fallen Angels
. This book follows Simon as he adjusts to his new life as a vampire. Right now, it's set to publish in March 2011.
Summary - Love, blood, betrayal and revenge - the stakes are higher than ever in City of Fallen Angels. Simon Lewis is having some trouble adjusting to his new life as a vampire, especially now that he hardly sees his best friend Clary, who is caught up in training to be a Shadowhunter - and spending time with her new boyfriend Jace. Not to mention that Simon doesn't quite know how to handle the pressure of not-quite-dating two girls at once. What's a daylight-loving vampire to do? Simon decides he needs a break and heads out of the city - only to discover that sinister events are following him. Realizing that the war they thought they'd won might not yet be over, Simon has to call on his Shadowhunter friends to save the day - if they can put their own splintering relationships on hold long enough to rise to the challenge.
And there is going to be a movie for The Mortal Instruments too!!
For more details on the news I've mentioned just now, click here.